The real estate market is an ever-changing dynamic. Today we are going to be talking about the current state of real estate in Saline Michigan as of October 2022. Being Saline real estate agents, we have our finger on the pulse of all things real estate in Saline. If you are considering moving to this wonderful town, we would love to be your local experts guiding you through the process!
Snapshot of what real estate in Saline looks like this month
The real estate market in Saline did go down a bit in September. There are three primary reasons contributing to this change. It is, in part, due to the regular slowing down that we see in the real estate market throughout Michigan. Summer is over, the kids are back in school, and the weather is getting colder. The main reason is due to many people putting their real estate plans on pause. They want to see what is going to happen to the economy before they make any decisions. The final reason is the effect of everyone being on pause so abruptly after the most robust season the real estate market has ever seen. Everyone got used to homes selling quickly. Now, when homes sit for a couple of months, it causes sellers to race to reduce their prices and it causes buyers to ask for further price reductions.
It is always good when looking at the market to compare month to month, but it is best to compare year over year. Looking at things month to month gives you a more immediate glimpse of the market, but year over year gives you a look at the big picture. The month-to-month can shift wildly with little things such as whether more affordable or more luxury homes sold that month. It also can shift with the seasons. Year over year shows you the overall health of the market.
Real Estate in Saline Month to Month
| | | | | |
| --- | --- | --- | --- | --- |
| Market Stats For Saline | September | August | Difference | Trend |
| New Listings (Homes) | 17 | 28 | -11 | -39.28% |
| Homes For Sale | 53 | 53 | 0 | 0.00% |
| Total Homes Sold | 23 | 22 | 1 | 4.54% |
| Median Listed Price | $441,950 | $455,000 | $-13,050 | -2.86% |
| Median Sold Price | $419,900 | $500,000 | $-80,100 | -16.02% |
| Average Days On Market | 12 | 11 | 1 | 9.09% |
Real Estate in Saline Year over Year
| | | | | |
| --- | --- | --- | --- | --- |
| Market Stats For Saline | September 2022 | September 2021 | Difference | |
| New Listings (Homes) | 17 | 27 | -10 | |
| Homes For Sale | 53 | 61 | -8 | |
| Total Homes Sold | 23 | 32 | 9 | |
| Median Listed Price | $441,950 | $399,900 | $42,050 | |
| Median Sold Price | $419,900 | $448,332 | $-28,432 | |
| Average Days On Market | 12 | 39 | -27 | |
As you can see, last year, we had about the same percentage of "homes that were listed" to "homes that were sold" as we did this year, although the actual numbers were different. So our inventory-to-buyers ratio has remained consistent. What has not remained consistent is the pricing. Sale prices have gone down while our list prices are going up. Sellers and agents must be aware of this when deciding on a list price. Our average Days on the Market have gone down dramatically.
I know what is on paper, but I also know what the situation is like in real life. Homes that sold are selling quickly, but we have a lot of homes that are sitting on the market for a long time. This is because homes that are desirable due to being of a high-quality finish are still selling quickly, but homes that need updates are sitting around. Essentially, buyers are willing to chance the uncertainty of the economy on HGTV quality, move-in ready homes but not for homes that need work. If you are planning to list your home and need it to sell quickly, be sure to keep this in mind. However, always remember to keep project ROI in mind when updating a home to sell. Check out our blog Home Projects with the Best ROI before starting a project.
Snapshot of what real estate nationwide looks like this month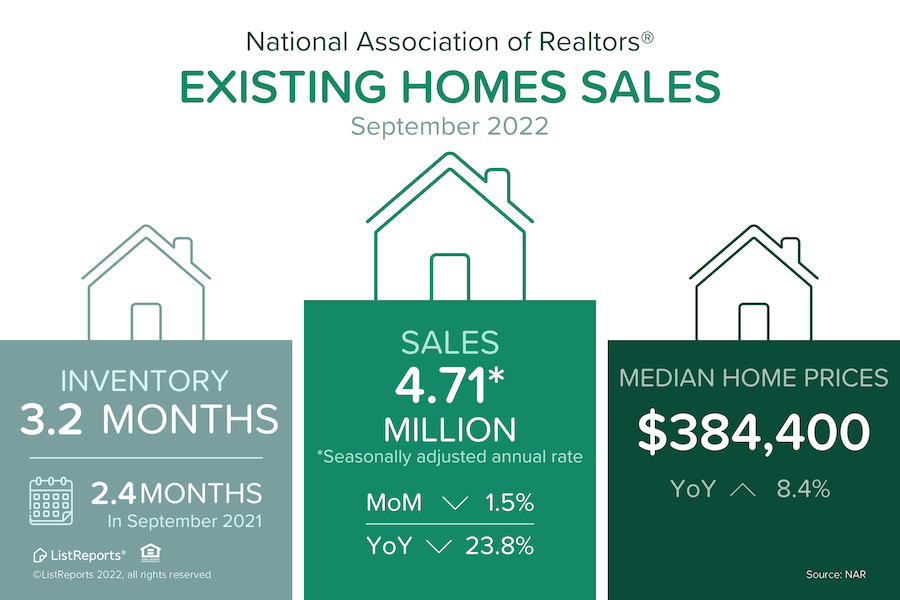 Perspective and looking ahead
In the world of real estate, it is considered a seller's market if inventory takes on average less than 5 or 6 months to sell. We are substantially less than that as of right now. However, most experts are expecting that to change around mid 2023. If you are wanting to sell your home soon, you will not want to delay. If you are a buyer, it may pay off to wait a little longer. If you are an investor, get your money in order because soon you will want to make a lot of purchases.
If you have any questions about real estate in Saline, or the greater Ann Arbor area, please reach out to us. We would love to answer your questions.
Thanks for reading!