Today we will be talking about the Saline Housing Market for the month of March and the year so far overall.
Most people assumed that although 2022 would have a very strong housing market, it wouldn't be as crazy as 2021. And why wouldn't they think that? After all, 2021 was the craziest year the housing market had ever seen. Home values went up 18.5% nationwide. Then, the media used scare tactics to convince many people that we were in a housing bubble. Fear not though, this is no housing bubble! It is simply an issue of supply and demand (I actually talked about this a little bit more in another blog I wrote called Answers to Your Top 3 Real Estate Questions.
However, the market has done something surprising. In spite of higher interest rates, home prices have gotten a little crazier. At the end of 2021, the housing experts were projecting a 5% increase in home values for 2022. After seeing how things are going this spring though, they are now projecting it to be closer to 9.2%.
I bet you're saying to yourself, "That's great, but what is the housing market doing where I live?" Well, I am going to tell you all about the Saline housing market right now.
Saline Housing Market Stats
Below are some charts showing the median sale price, # of homes for sale, and median # of days on the market reflecting the competitive nature of the Saline housing market.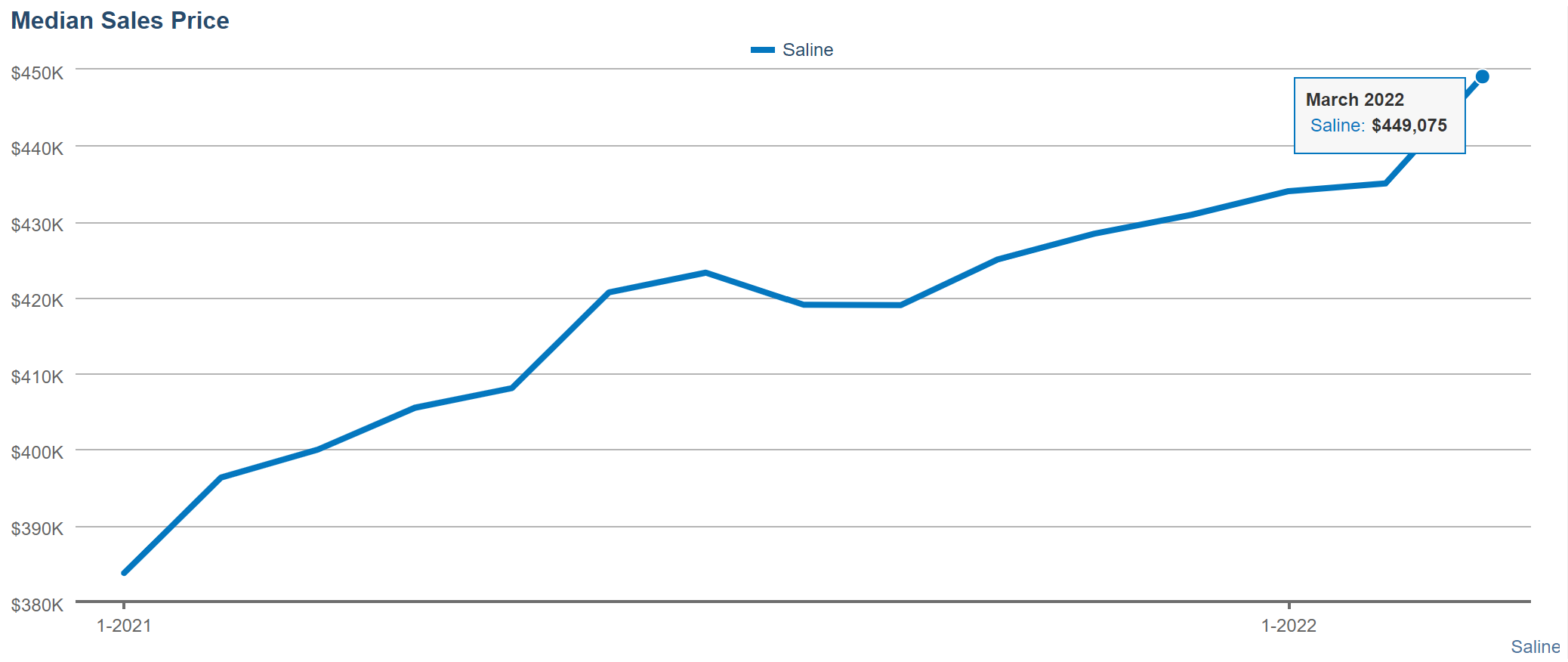 Median home prices in Saline rose by $14,075 since February and have risen by $49,075 since March of 2021. That is almost a 25% increase in 12 months.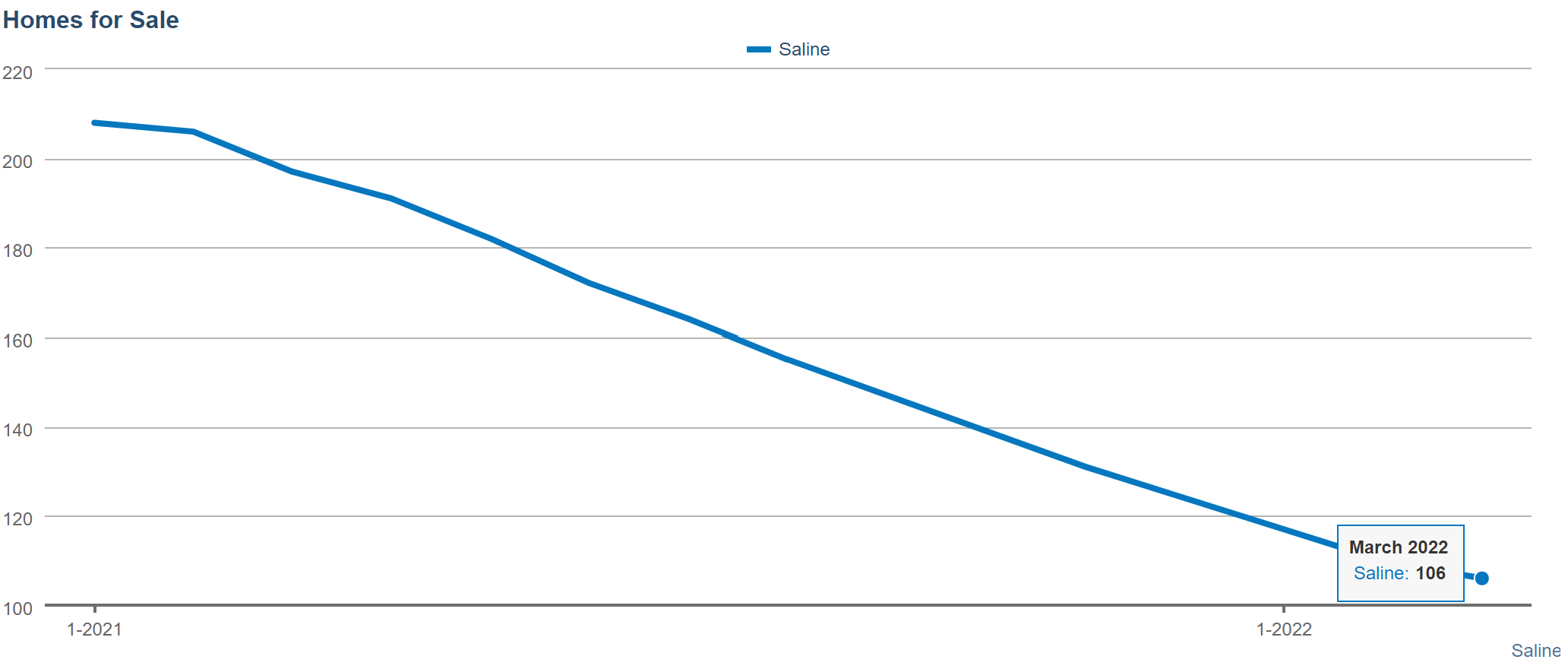 Inventory is low everywhere, and Saline is no different. There were 106 homes for sale in Saline last month. That's down 46% compared to the 197 that were for sale in March 2021. As anyone who is looking for a house in Saline knows, most of these homes that are for sale are actually new construction. This doesn't help anyone in a time crunch.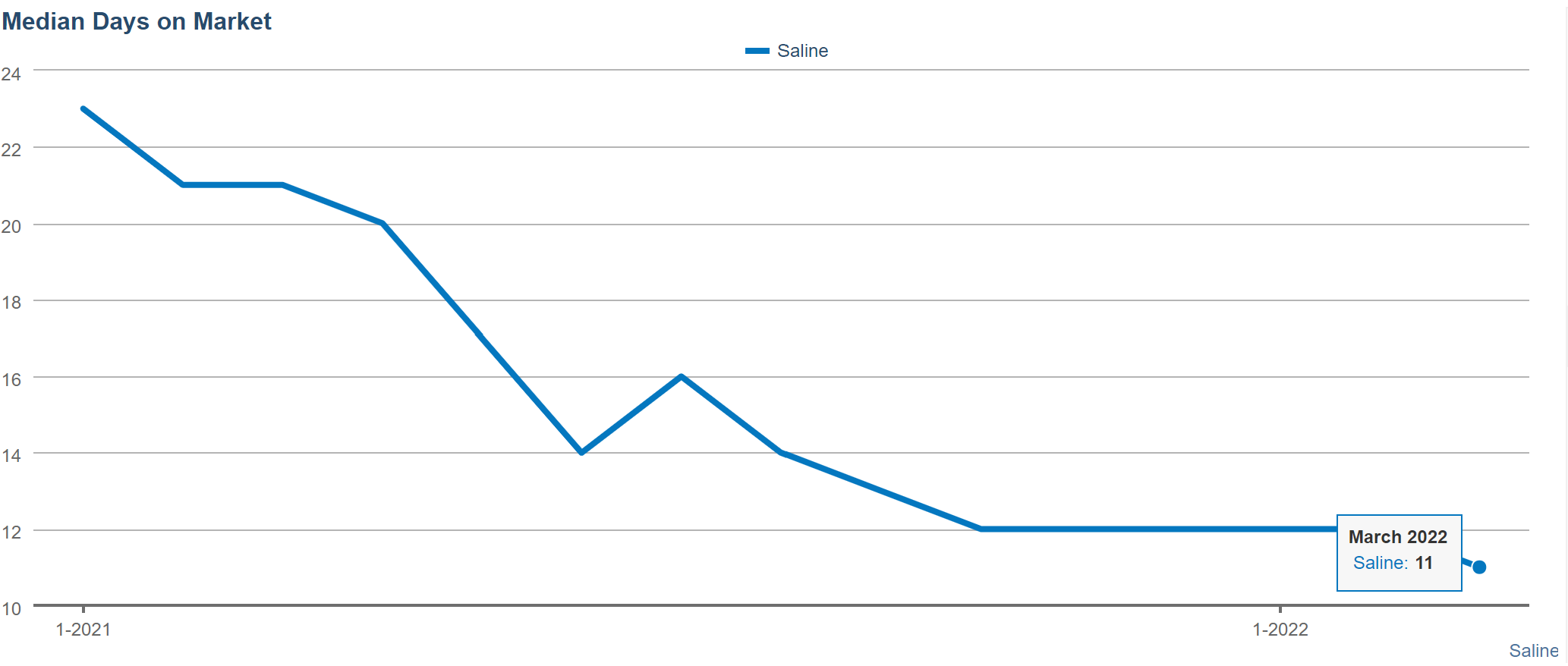 It only makes sense that with low inventory and high demand, homes will sell faster. The median number of days on the market in March was only 11 days. This is a decrease of 48% compared to the 21 days of last March. This directly correlates to the 46% decrease in inventory. It supports what experts saying about the home value increase being an issue of supply and demand and not a bubble.
So what does that mean for you?
For Buyers
Many buyers are getting increasingly frustrated with the market and no one can blame them. When you are competing with multiple offers and cash offers it can be easy to feel defeated. However
Just because it is a difficult time to buy a house, doesn't mean that it is a bad time to buy a house!
The housing market is still strong, so buying a house is still a good investment, even with prices being crazy. Believe it or not, now is a good time to buy a house. Think about it. Things started getting difficult for buyers back in 2020. However, the people who persisted and bought back then have seen incredible returns in their equity. Home prices are expected to increase 9.2% this year and interest rates going up too. This spring is actually a great time to buy a house, even though may feel like you're trying to roll a boulder uphill. Come next year when you look at how much interest rates have gone up and how much equity you have acquired, you'll be glad you bought when you did.
That being said, it is important to make sure that you don't get too caught up in the emotion of it all. I know that is easier said than done, but no deal is better than a bad deal. Don't spend more than you can actually afford and we always recommend having an inspection done. It is your home, but it is also an investment. Make you decision wisely.
For Sellers
As interest rates go up and buyer frustration goes up, demand will begin to go down. Since we're not in a housing bubble, you don't have to worry about prices dropping, but they will increase at a much slower rate and start to sit on the market a bit longer. Don't be too dismayed though, the inventory shortage is expected to last for about a decade so we should see a strong seller's market for several years to come.
Don't miss my blog The Best Time to Sell a House in Saline Michigan to find out when the most stategic time to list is.
If you're thinking of moving, give us a call! We would be happy to talk you through the specifics of the Saline housing market and the home buying process. Be sure to check out the 5 Things to Know About Saline Before You Move Here.
Thanks for reading!
REALTOR
MI Home Team