Is Saline in a housing bubble? That question has been asked many times and been presumed true many times. After all, that is what the media has been telling us for the last year and a half so it must be true. Right?! There are many different factors to consider when determining if Saline is in a housing bubble. Unfortunately, people still have PTSD from the housing crash in 2008, which is completely understandable. After all, for most people, their home is their biggest asset. If their home value is in trouble, so is their whole financial future. Today, we are going to take a look at inventory and the rising prices of homes. Put on your swimsuits because we're about to dive in. LOL
Inventory and Rising Home Prices
So the first thing I want to tackle is why home prices are going up. Then we can properly assess whether Saline is in a housing bubble. The reason that home prices have gone up is because of an issue of supply and demand. After covid, many first-time homebuyers emerged on the market after being stuck in their tiny apartments for so long. However, fewer people were listing their homes for sale because of concerns with covid germs. That is what started everything off. It has since been a perpetual chain of cause and effect. Since there was so much demand, it made the prices go up. Once the prices went up and sellers realized there was a shortage of homes available, they became reluctant to sell for fear of not being able to find a new home. The supply and demand became increasingly unbalanced and continues to be unbalanced.
Below are charts showing the housing inventory and home prices in Saline since January 2021. As you can see, in that time the housing inventory has dropped nearly in half.  To make it more difficult. In Saline, the vast majority of the 106 homes for sale are new construction. With most of the new construction properties being in the $500k-$700k range and taking 9-18 months to complete, many people don't have the time or money to go that route. This is why competition has been so fierce. However, to the benefit of Saline homebuyers, it has not been as competitive as Ypsi. The charts show the correlation of home prices rising as inventory decreases. This is strong evidence Saline is not in a housing bubble. You can read more in my blog Saline Housing Market for March 2022.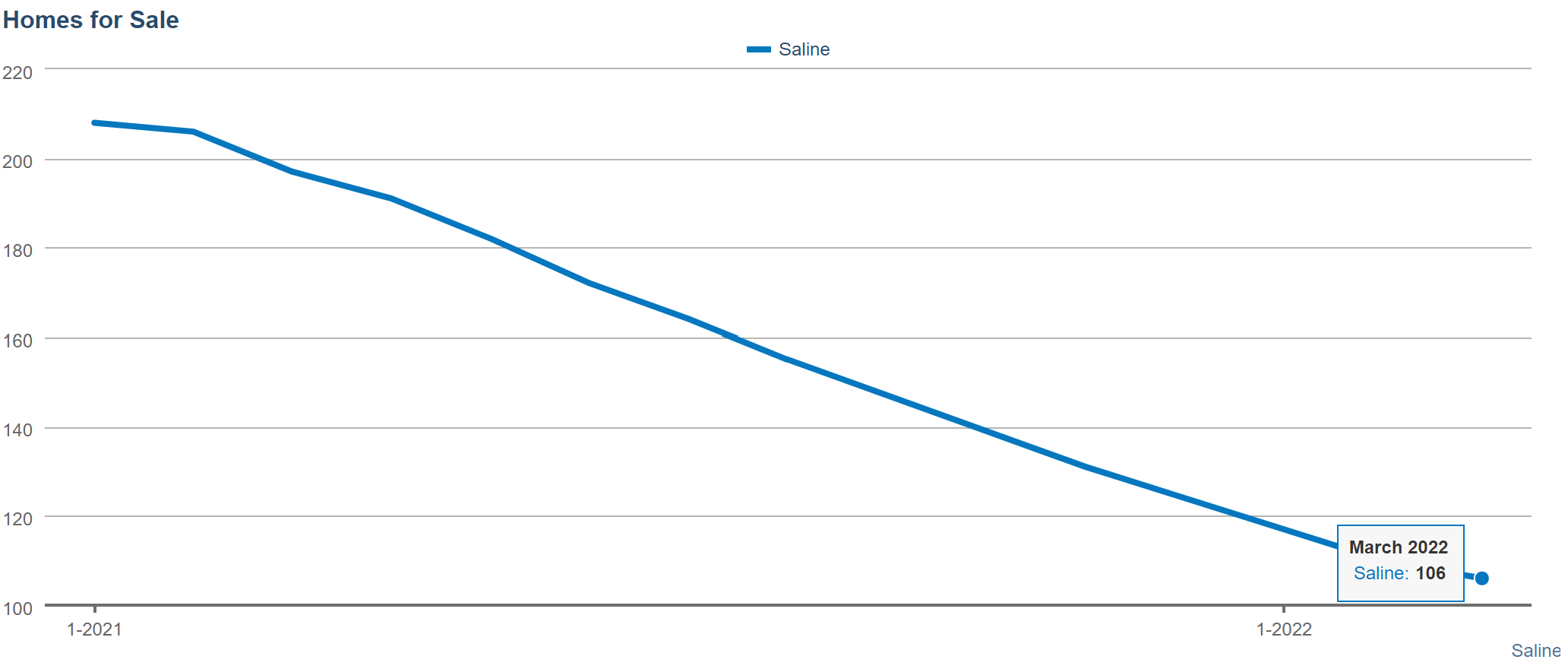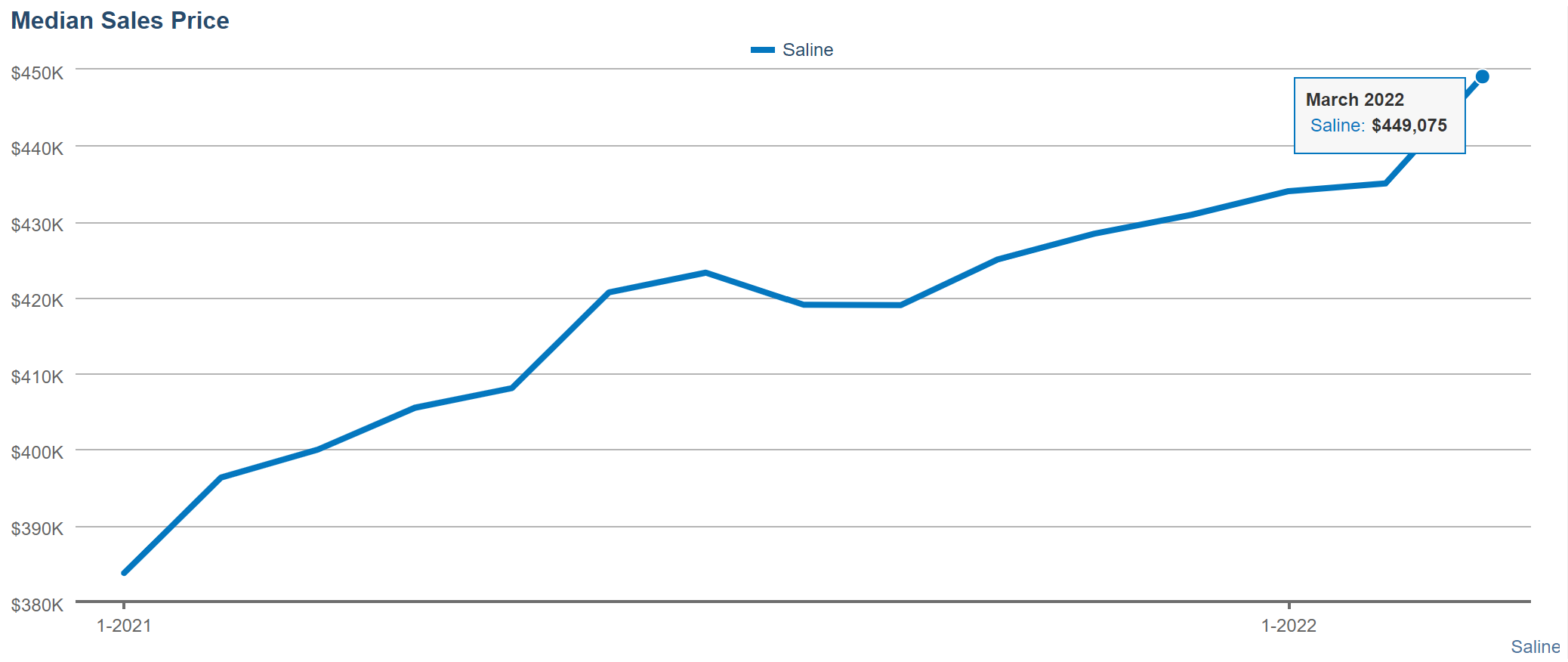 Is Saline in a housing bubble?
The supply and demand struggle is starting to sort itself out. While experts believe that the supply and demand issue will continue to be unbalanced for about a decade, it will become less and less drastic. We are already seeing this to be the case. With the spring market being in full swing, this month we are seeing more and more homes for sale. In part thanks to realtor.com's declaration that the week of April 18th will be the best time to sell a house. If you are interested in learning when I think will be the best time to sell a house in Saline, check out my blog the Best Time to Sell a House in Saline MI. This, in addition to rising interest rates causing some buyers to put their search on hold, is helping to alleviate the issue. Now don't start to worry about this return to balance being a housing bubble in Saline. Home prices are still expected to go up, just at a much more typical amount. In 2022 they are expected to go up 9% (as opposed to the 18% we had last year), and only about 5% in 2023 which is in the typical range of 4%-6%.
So essentially we are going to have a price deceleration, but not a price decrease.
In our next blog, we will look into interest rates and inflation.
Be sure to also check out our blog 5 Things to Know About Saline Before You Move Here.
Thanks for reading!